---
SEE YOU ON THE SCREEN!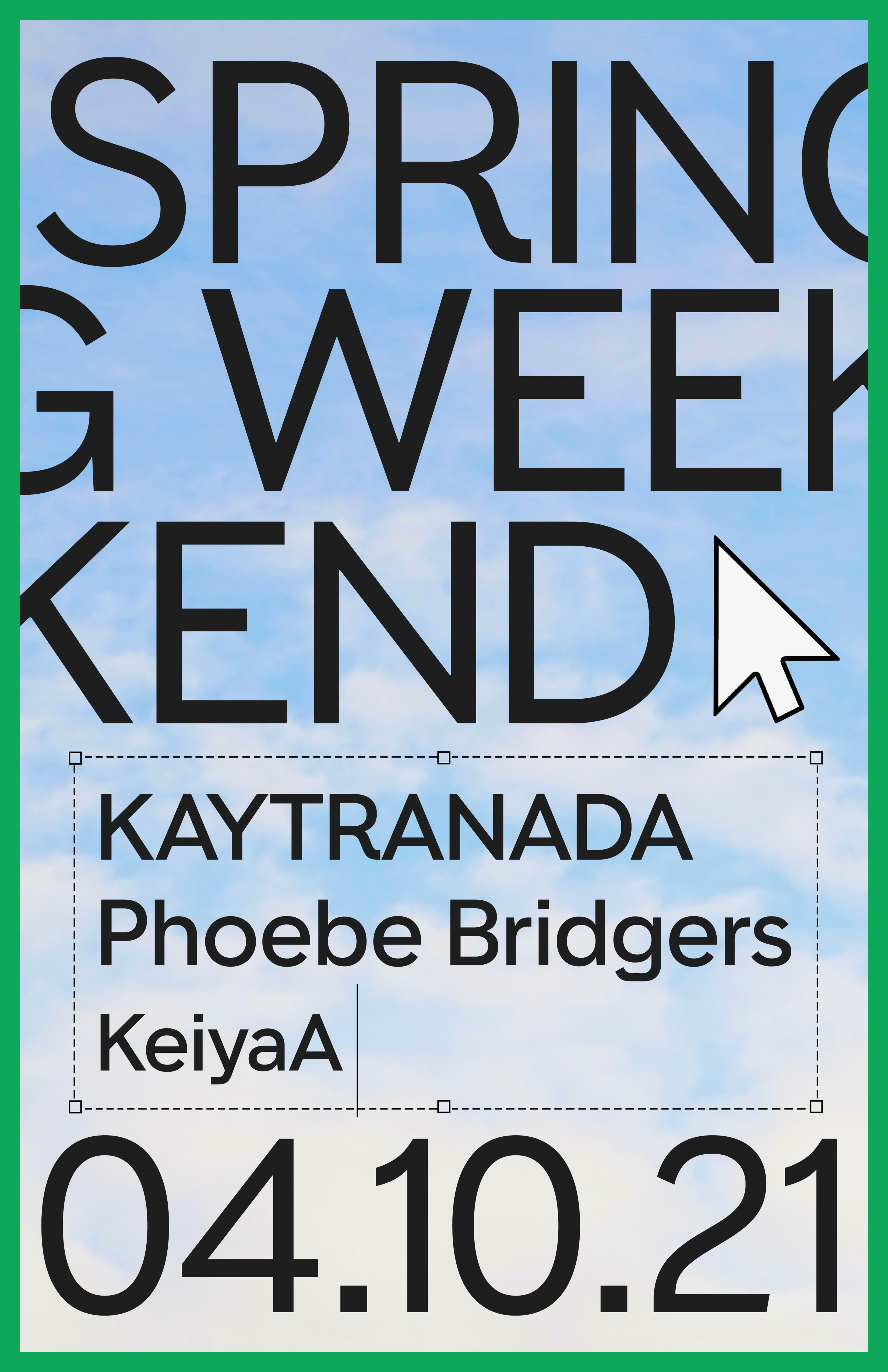 COVID-19 UPDATE

Due to COVID-19, our Spring Weekend festival will be held virtually this year on April 10, 2021.
This will be a new experience for us all — and we want to make sure that it is a safe and amazing day of performances for everyone. Here's what we expect from our audience and community:
Spring Weekend has always been an event that gives our community a moment to enjoy wonderful music, celebrate the academic year and come together as a community to show our love and care for one another and for the space we all share.

Given the nature of the ongoing COVID-19 pandemic, it goes without saying Spring Weekend will look different this year, but as is always the case, the safety and wellbeing of the community is the number one priority. In light of this global crisis, we should feel an even greater responsibility towards maintaining the safety and wellbeing of our community, both on Brown's campus and in the city of Providence. This means following all of the university's COVID-19 guidelines out of respect for each other and for this city we call home.

To be ignorant towards community safety guidelines is to actively harm the community at large. By committing to our safety standards, you are committing to enjoying the privilege of Spring Weekend without mobilizing such privilege in a harmful manner.

Spring Weekend should be a good time for all as well as a time when we are supporting our Brown community by adhering to health and safety guidelines. In attending Spring Weekend, I agree that:



I will socialize with ONLY members of my pod and keep my mask on and social distance if encountering or socializing with anyone outside of my pod. I will look to the level to understand guidelines for social interactions.

I will keep myself safe and avoid necessitating medical resources made scarce by the demands of the pandemic.
I will adhere to the prevention and commitment guidelines outlined on the Healthy Brown website.

I recognize that breaking these guidelines will put the community at risk and doing so may also result in accountability measures.
I have the responsibility to keep members of my community safe by following these guidelines, in the weeks leading up to and during Spring Weekend.
Spring Weekend is never about any one individual; it is about our community as a whole. Actions that privilege the individual over the community, namely violation of Brown's safety guidelines, communicate a disrespect for others. Anyone who calls themself a member of Brown's community should hold these guidelines and community values true in all their behaviors.

Have fun! Be smart! & most importantly be safe!

With Love,

Brown Concert Agency


SCHEDULE

Wednesday, April 7th
Airbrush Trucker Hats- 12pm-4pm- Main Green
Join us from 12pm-2pm on the Main Green on Wednesday, April 7th for a FREE custom airbrushed hat from Fun Enterprises to rock for our virtual Spring Weekend! Pre-Registration is required. Register here!
Spin Art Frisbees / 12 PM - 4 PM / Main Green
Stop by the Main Green to make a free Spin-Art frisbee from Fun Enterprises to use outside with your pod! Pre-Registration is required. Register here.
Cupcakes and Kettle Corn / 11 AM - 2 PM / Main Green
Need some fuel for the final week of classes? Join SAO on the Main Green for free cupcakes and kettle corn.

Thursday, April 8th
Tricycle Ice Cream Giveaway / 11 AM - 2 PM / Main Green
Overheated from studying for finals? Cool off with some free frozen treats from Tricycle Ice Cream.
Underground Thursdays / 8 PM / Virtual
Join Underground Thursdays for our end-of-the year concert featuring performances by student groups and some of our favorite student musicians, poets, and performers. Click here to join.
Friday, April 9th
Spring Weekend T-shirt Giveaway and Tie-Dye kits / 11am-2pm- Main Green
Come by the Main Green to get your custom Spring Weekend T-shirt and grab a tie-dye kit to make it your own.
Make your own root beer float and mug giveaway / 11am-2pm — Main Green
Stop by to pick up all of the ingredients to make your own root beer float in a custom Spring Weekend keepsake mug.
Virtual Dueling Pianos / 7pm-10pm / Virtual
Open to the full Brown community, this is a way for faculty, staff, and students to celebrate the end of the spring term virtually together while singing along to some of your favorite songs. Gather your pod or your family and get ready with your song requests! Register here.
Saturday, April 10th
SW Swag Giveaway / 11 AM - 2 PM / Main Green
Stay hydrated through Spring Weekend with free Spring Weekend water bottles, tote bags, and posters.
PVD Bagels Giveaway / 11 AM - 2PM / Main Green
Fuel up for the last weekend of the semester with free bagels and an assortment of toppings! Join SAO on the Main Green.
Pizza giveaway / 3 PM / Wriston Quad
Join us on Wriston to grab some food before the concerts begin.
Virtual Spring Weekend Concert / 7 PM / Virtual
Spring Weekend is back this year with a lineup of virtual performances that you don't want to miss.

See you on the screen!
Sunday, April 11th
Self Care Sunday / 11 AM - 2 PM / Main and Quiet Green
Come by Main and Quiet Green to unwind with giveaways and yoga! Yoga with Matt Garza from Haus of Glitter will take place from 12pm-1pm on the Quiet Green. Bring a yoga mat or a towel and wear comfortable clothes. Masks must remain on at all times. Yoga is limited to the first 50 attendees.



INFO
Brown Concert Agency (BCA) is a fully student-operated organization that plans and hosts Brown University's annual concert event Spring Weekend.
We accept new members every year during the fall semester. Please check back here and on our social media for updates about applications and contact us with any further inquiries.
WHO WE ARE
Kenny Nguyen
Lilly Pickett
Rushane Dunn
Jack Stein
Laura David
Catherine Yang
Joey Han
Mara Cavallaro
Adrianna Maxwell
Fernanda Chavex
Elliot Purdy

Gala Prudent
Adi Thatai
Ellie Barksdale
Tanya Qu
Briang Wang